Eyelashes are considered a woman's Signature, as it is the one feature that is used to Command Attention, and send Unspoken Messages.
Eyelash Extensions are the eyes perfect accessory, as they brighten your eyes, lengthen, and thicken your lashes…creating a stir from admirers as they can't help but stare. What a difference these lashes make, and thousands of women all over the world cannot live without them…now neither can YOU!!!
With Eyelash Extensions age is NOT a factor. Dr. Oz talks about lashes for women OVER 40: "One of the best ways to keep your face looking young is by making your eyes "pop" and really stand out." Women of all ages are taking advantage of how the extensions open your eyes…who says you can't have it ALL!!!
For years celebrities, actors, models, and entertainers have been keeping this world-wide craze a secret. Well, the secret is out! Become Noticed…Flutter Your Lashes!!
NOTE: There are THREE types of lashes…Temporary, Semi-Permanent OR Permanent. Temporary lashes are called "Lash Strips" and come in various lenghts, designs and volume…this is meant for one day wear only. Semi-Permanent lashes are often mistaken for "individual" lashes, as they are several lashes bound together, called a cluster. These lashes are human-hair lashes that are bonded between your existing lashes, still giving an illusion of full lashes…these lashes are NOT meant for long-lasting wear. Permanent lashes are one lash individually adhered to each of your lashes, using a specialized lash agent. These lashes are waterproof, undetectable, and lasts several months. Depending on your desires and overall look, we use Silk or Mink lashes. We take your lashes seriously, as our Lash Technician is "Licensed & Trained" 8+ yrs through Lavish Lashes. It is in YOUR best interest to be aware of Nail Technicians, Salons, or Spas that offer ANY of these services without the proper lash license (in addition, to their Cosmetology or Esthetician License) through a U.S Licensed Lash Training Company…so ask to see it.
To see Before & After pictures of our work, view our FACEBOOK PAGE!
Temporary Lashes Semi-Permanent Lashes Permanent Lashes
Press Play to Watch How It's Done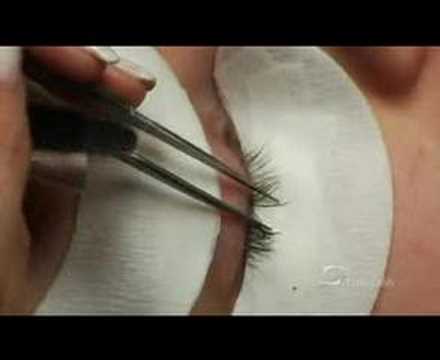 For FAQ, Click Button below ….